I visited a high school friend this past weekend, and he asked me if I quit writing on my blog, (he seems to appreciate them, maybe the only one!), and I looked on this site and it's been over a year since wrote a story! That's terrible, I used to commit myself to writing at least one blog a month, and then a year goes by. Wow. I say this because a few things have gone this past year, which I think were important to me, a few stories I'll share.
For about 7-8 years, I have been associated with a non-profit organization, called Heroes of Hope. The purpose of Heroes of Hope is to raise funds for the research of brain tumors, and brain cancer. There's a friend of mine who is a person who lost a brother to brain cancer, Lisa Miller. She initiated this wonderful organization, and has become a great friend, and of course is a wonderful person. Heroes of Hope race is a 5k/10k race that is held every year at Dockweiler Beach in my hometown, Playa del Rey, California. I emcee the event, and get very emotional every year, for the hope of others who walk/run this race for us survivors, and to those who carry on the lives of others who have passed on. I have met some survivors one year, and when the race arrives the next year, some of those have gone home to Heaven. It can be hard, emotional, gritty, uplifting, inspiring, and admirable for those who attend this event, and poor out their hearts to the hope of raising money for the cure of brain cancer.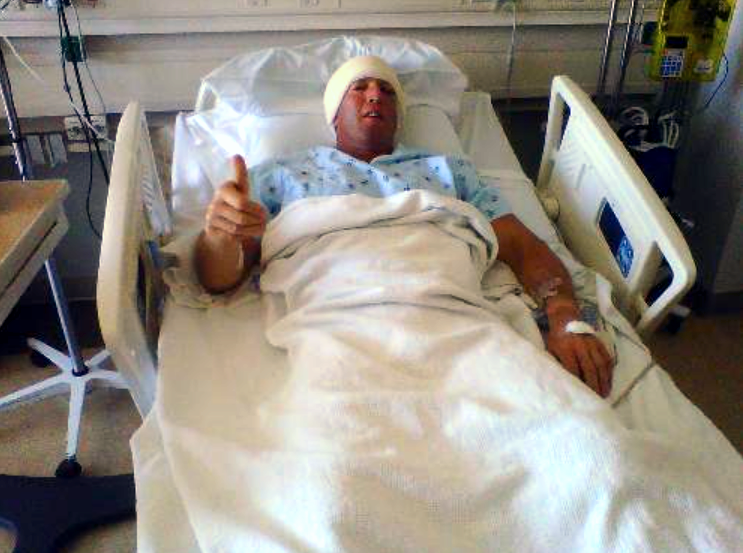 For those who might not know, I had th3 brain tumors, all of them were Meningiomas. The years have passed since I had them, 2008,2010, 2014, but the memory is like yesterday. I remember every detail when I was in that hospital bed, I remember every nurse that tended me, I remember every courtesy that UCLA Ronald Regan Hospital offered me, and I was committed to make them (UCLA) the priority of what I could give back to the race for the cure of brain cancer. When a survivor thinks about what he/she went through, it always seems like yesterday, no matter how many years has gone by. My first tumor was in 2008 and the size of that Meningioma was 8.2cm, about the size of a softball in my head. A softball! Not that I would compare that tumor to anyone, or to any tumor, but that's big. My second tumor was in 2010, and that was 4cm, and then I had to do 39 days of radiation straight. I realized after 2008 that I was "one of them", and I was so committed to helping "them", and me, that I had to get involved in an organized event, or any support group that focuses on brain.
After my 2nd surgery, September 23, 2010, my surgeon Dr. Isaac Yang, asked if I had a few extra hours in my week, knowing that my profession is in the fitness industry. Since I have been in that hospital bed many days, I was hoping to relate to the people in that hospital room, (these are people, not patients), and /or supporting groups, (family, friends etc…), where we could all support each other. It's funny, I remember every hospital bed, I remember every nurse who catered me, I remember every doctor who stopped in to acknowledge me, I remember every bit of kindness that UCLA offered me, and I so determined to repay them, (UCLA), that I immediately said yes to volunteering. I started supporting the people of 6N, which is the neurological ward of Ronald Regan Westwood Hospital, and I didn't realize the impact that all parties benefitted from, myself included. Covid put a pause on progress, so we now have to find another path.
The new path was being introduced to Lisa, as I mentioned above. She put Heroes on the map with the loss of her brother back in 2001. Since Heroes will be going on its 15th year, it has since raised over $900,000.00 for the cure of brain cancer. It's funny how events turn out in life, well we could say God has the steps that we take, but from being a volunteer at UCLA from 2010, CBS heard about what I was doing with other neurological patients and sent a camera crew in to film our interactions and our relationships in a hospital room, and it ran on KTLA for a week! Who would think that would come out of it? I say this for a reason, and certainly not for a pat on my back; it's to bring brain tumors/cancer awareness to the public, and that was a start. With Heroes, in the first few events that I attended, I said a couple of words on stage to encourage others to keep their faith alive, to push their faith, and to engage everyone's inspiration. Now I'm emceeing the race to again, raise awareness, spill my heart and soul for the passion of what these mean; a cure.
I'm putting this blog on my Facebook page, to those I know, and those long reaching friends to, as they say, "support us". I love individual entries, and I also love donations from those that can't be here, on November 13, 2022. I seek sponsorship from those that want to support their table, either for their own personal business, or to support a survivor, or one who might be looking down on us at this next gathering. I want everyone to initiate a team in support of a friend, I just want to ask; and I will keep asking. Last year I raised over $4,300, this year I want to heat at least $5,000-$6,000. Let's all do this together, as a group, as individuals, as a team of faith. Faith in medicine, faith in doctors who are genius, and who perform miracles in their hands, and of course nurses who are beyond the level of kindness, loving to others and being the special people that your soul gave you. Please come to this event, or give a prayer to all of the survivors, and impower the awareness of brain cancer; Heroes of Hope, 11/13/2022!
Life and Peace,
Scott Yonkouski
blog: www.everythingisgoingtobealright.com