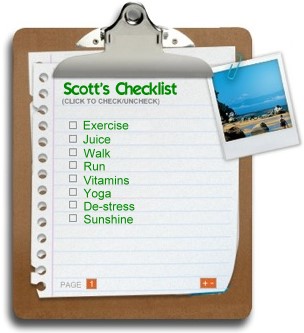 Who exercised today?  Who juiced today?  Who did one single thing, (exercise wise) that was on "the list" for today?  I know a few people, myself included.  By the way, I'm not tooting my horn, this is for those that did, because it's very easy to bypass, to "not be in the mood", to be too tired, to say it's Saturday, I want to relax….there's a ton of excuses that I'm sure we've all used, heard, whatever.  I'm also sure that when we've made the effort, when we've put a little sweat on our forehead, when our muscles feel a little tight; that's when a feeling of "I did it" comes over us, when we just weren't in the mood.  That, my friends, is a GREAT feeling, a feeling you want to repeat many times over.
I went to Las Vegas this past Tuesday and Wednesday, to visit my family, and to work with my brother's wife Ginna, who, as mentioned in a few blogs earlier, had a stroke.  She needed to get some exercise, a routine, on paper so she could involved in some sort of physical activity every day.  We went through a ton of exercises, so she would have a little variety.  Here's the bottom line; in the few days that she has been doing this, her physical state has been in an upbeat state.  She even went a day without a nap; and she's on meds, just like I am, which totally exhausts her, like it does for me.  But guess what, after a little activity, your body NEEDS this; so quit resisting, give in.  You want another piece of info?  Sometime the strength, or endurance, or balance, or maybe two, or maybe all three put together, don't let you do what you were able to do in the past.  Get past that.  What I used to do 10-15  years ago, possibly could be twice as what I can do now.  (Well, I guess age might have something to do with it!), A lot of the style of the workout also has something to do with it, but the point is, here, to do what I can do, not what I used to do.  That's what my body needs.  That's what everyone body's needs. Everyone has a need, a functional need to work on, to improve their physical being.  I really want someone to reply by message text, email, phone, any sort of conversation, that they really wish they didn't work out that day, that they DON'T feel better, that maybe doing nothing makes them feel better.  I really don't get those conversations.  I understand that my brother got in on the act, and guess what?  He now feels a littttttle better; uhmmm. 
Those 2-hour workouts; done with those.  Give me 30-40 minutes, and you'll feel great.  Give me 20 minutes, and you'll feel like you did what you could do.  Anything at all, whatever time that you have, you can put something in there.  As I mentioned earlier, I have to take anti-seizure meds, which totally exhaust me.  When I work with someone, I have to get up at least 2 hours before, so I can be "awake", so my mind can function.  If I work out first, yes I'm tired, but as I start moving, I DO become alert.  Movement.  That's the key.  You might be tired, but start to do something.  You don't know how many times that I've lied to myself, and I KNOW that I'm lying.  I'm tired, and I'll say that I'm only going to do a workout on a minimal repetition mode; or do cardio on a real "short" time frame, because if I just start, I'll hit my little goal, and 99 out of 100 times, I'll keep going.  Just because of movement, no matter if you're on meds or not.  Just start. 
Today I took the Boot Camp that I give someone else, a client; it made me work!  To be honest with you, it wore me out, where 6 months ago, I wore it out.  But now I know what I have to work on.  My point here, though, is this type of , what I thought was reggression, I didn't actually care who saw me perform a set of exercises, that I breezed through before.  You know why?  I'm pretty darn sure that no one knew what I did before!  Guess what ego; no one else cares; so just go ahead and start!  And afterward, I just felt great!  Once again, just start! 
I know that I sound like I'm jumping on a sand box about doing SOMETHING, but if you're not feeling physically like you did before, if you are feeling a little tired, or if you're injured, working for your strength will make you feel better, and not just for the muscles being used, but for the functional movement that driving your body takes.  Do it.  Make time for yourself.  I know, I know; there's only so many minutes that you can afford.  So use them.  Thirty minutes, twenty minutes, give me ten minutes, and I know that you'll feel better.  Trust me on this.  I do this to myself all the time.  If I have a ten minute break, I'll give it all I have for 9 and a half of those minutes, and my enthusiasm jumps!  Then YOU get put a lid on MY ego! 
I don't let my ego get out of hand, anymore.  This is for me, just me, like it is for you.  Do what you can do.  We all start somewhere.  Don't wait for something to happen to you, for you to start your little routine.  A little bit a time, and then a little more, and then you see some improvement, and before long, you actually start to enjoy feeling a bit better, as you feel good to yourself.  This is all part of our journey, why not do what makes us feel that we're at our best?  ENJOY…