SOMETIMES LOVE IS NOT ENOUGH…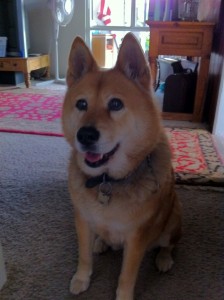 Yesterday was rough.  How many times have you all heard me say, "Enjoy the moment", "things change", "something positive comes out of everything"?  In all of that, I still believe.  Why wouldn't I?  I've always said, God has plans, and lots of times that differs from OUR plans.  I STILL  believe in that.  I saw my dog getting old.  I saw her go from jumping on the bed, to only jumping on the couch, because it's lower.  Then I saw her not able to jump that distance, so she would lay on her "doggie" bed.  Then she couldn't get up.  Then she couldn't lift her beautiful head.  Heartbreaking.  You see everything, you try to prep yourself, you know what's coming, what you'll have to do.  It's still an unbelievable chore, to say what has to be done.
I'm writing all of this, because it happened within the past two weeks; so it's all in my mind, (or my half-mind)!   In my place where I live, that I've always had a dog in my last 20 years.  I mean, I live next to an airport, so I'm used to a little noise; but last night, it was SOOOO quiet, it was spooky.  Lola didn't bark, but you don't need to hear them, you can just FEEL them, and I didn't feel her last night.  Very heartbreaking.  Aside from missing her, I don't feel her around me; that is so depressing.  The spirit, the excitement, they make you laugh, or just smile; they make your life good.  This is part of the plan, but it is rough to handle at first.  Since the last part of her life was on a downhill, it's hard to bring about all of the uphill trials.  She was a unique dog, with a unique personality.
It really took me a few years to really tune in to her, mostly because I had Brando for 6-7 years with her, and he was MY boy!  I loved him as I loved Lola, and because she was there when he died, I just thought of her as my miracle; and she was!  Think of her as the hidden treasure.  She was always there when I needed her to be there.  (What is he talking about)?  Basically, she ALWAYS had me in her sights.  If I went to pet, or hug her, she very easily would move away; but she kept me in her view.  A Jindo is like that; they are VERY aloof, but once they get territorial to you, they will always have you in their view.  This reminds me of how she wanted to get out, ( and I mean out, out) either to have her run away, or just to head into 'HER' territory, when I first found her, and how she turned that around, hanging around with Brando.  This turned into leaving a gate completely open, and her not even thinking about going out.  She never barked, unless she was extremely startled, but she had a look, that would startle a LOT of people.  I really liked that!  Jindo's date back to Korea, where they would protect the royalty, so they had balls, or should I say guts, off their look.  Once you got on their side, then they start to let you in, into their thinking.  Great, great dog.  That's why I say, you can feel them.
When I first found her, that first night, she jumped up on the bed, which I certainly didn't expect.  Then she started licking my bald head, and wouldn't stop, until I let out an embellished yawn.  So then she then laid down.  I just started laughing, it was so funny.  I could go on, and on, with these stories, but that was the first.  I even found a home for her; I mean that was the plan, to find a home for her.  And that's when God said," I don't think we'll go that way; why don't you keep her?"  The rest is history.  Maybe that's is what's going on now; I really think that I want another Jindo. They are very unique.
When I started writing this, I wanted to vent a little about the prices of vets, and those that will come to your house to give the shot so thay'll pass on at home, but there's no point.  The business is what it is, money, and it won't change.  So be it.
A lot has gone on in the past month, as far as her health; but there's one thing for sure; I had a LOT  of laughs.  I'm very fortunate, I took her to work every day.  She went everywhere with me.  I'd say 85%-90% of the time, she was with me.  I was lucky that I was able to do that.  Maybe that's why we bonded so much.  When I went to a party, she went.  When I went on just a walk with her, and saw a neighbor who offered (1)! beer, she would be with me, into the night.  Amazing what that (1) beer will do!  Endless stories like that.  When I was in the hospital, especially after the first surgury, I wasn't home for over 2 months.  She stayed with Doug and Nora, with their 3 dogs, snd they were all good!  Can you believe that?  When I could walk reasonably well, we would start walking.  Sometimes I would walk down to Cafe Milan with Lola, she loved it.  So many things, so many stories.
Dammit, I miss her!  I know I always will; but I do believe another 4-legged creature will come along, and grab my attention.  I guess that's the way it works.  I do know that she is out of pain, right now; and I do know that I will see her again.  I look forward to that.  Until that time comes, I will miss her, but I will be SO thankful that she gave me laughs, and smiles, and even when I'm "pouting", I start thinking of fun stories, and laugh.  That's what having a dog is all about, laughs and smiles.
So all of you with your little creatures, love them until you think you've smothered them; until you just can't stop…LOVE THEM every second, those seconds add up.
ENJOY…