HERO: n.   noted for feats of courage and nobility of purpose.
One who is bold, solid, accomplished yet modest.
An inspiration to all.
Does that sound like a hero?  I believe it sums a hero up very well.  I think it sounds so much of a persons heart, and soul, that you want to talk to him/her, constantly!  I experienced an event yesterday, (11/12/17), that gave me chills all day;  so many instances, conversations, with different types of people, people of different backgrounds, and situations in their lives, that on that day, (and beyond), they were nothing but being a HERO!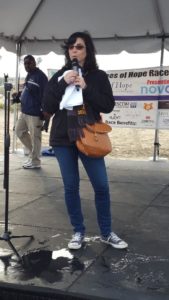 As you all know, I've dealt with three brain tumors, all of them being Meningiomas.  I will deal with this the rest of my life, in one way or another; but you want to know how I feel about this?  Who cares!!!  Big deal!!!  It's a part of MY life, that I've adapted to, and then we move on!  Yesterday, I met hundreds of my fraternity brothers and sisters, with all of them adapting the same attitude.  They have since moved on with their lives, as we all did, because there is "NO OTHER OPTION"!  I met these people at the 10th annual "SUPERHEROES OF HOPE", A 5K/10K race for the brain tumor research.  This event was initiated by an unbelievable women named Lisa Millar, who had a brother named Brad Kaminsky.  Brad passed before he was 30, from a brain tumor called "glioblastoma multiform".  After Brad's passing, Lisa started a 501(c) (3) non-profit foundation for Brad, called TBKF.org, (The Brad Kaminsky Foundation .org).  This event raises money (over $600,000 !), for the UCLA NEUOSURGERY research, and also for THE PEDIATRIC CANCER AND BRAIN TUMOR RESEARCH Mattel's Children hospital at Los Angeles, and CEDARS-SINAI DEPARTMENT OF NEUROSURGERY.  Last year, Lisa added another ship on the sea of love and support, by using the wonderful dancers of "iDANCE4a CURE", to put an end to childhood cancer, headed by choreographer/director Doriana Sanchez, who has danced/directed/choreographed so many shows in Las Vegas, and has judged so many "So You Think You Can Dance"; let's put it this way, this event had super heroes within.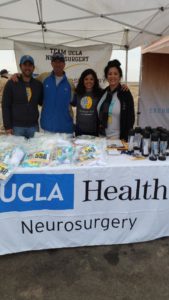 Besides myself, Doriana had a brain tumor, Brad, Cristopher, Veronica, people from Santa Barbara, San Francisco, Virginia, really, from all over were dealing with tumors! Joking, talking, grieving, but most of all, love.  Real, heartfelt love, to each other, or to the supporters who ran the race.  We had so many super surgeons from UCLA, including my surgeon from my first surgery, Dr. Marvin Bergsneider,   There was a group of dancers at the event, which was at the Dockweiler State Beach, here in Playa del Rey, California.  WE raised over $82,000!  When I think of UCLA, (and I know that I'm kind of biased here!), these super surgeons from UCLA were running in the race; that's called hands AND feet working away!  It was really amazing, that some of the people that I've talked to at the Ronald Regan Westwood Hospital were there, and we conversed about their surgeries, but yet the happiness that they have now in their lives, amazing.  There were so many sponsors, canopies with waters of different types, food items, and food trucks, and so much more…
So what do you call a Hero, really?  Someone who does something for somebody, or something?  Probably yes to both of these.  Could it be something that is done for somebody without them knowing who did that action?  Yes for that, probably.  I think that there are so many factors that could be added into this word, Hero,  even beyond our beautiful word of inspirational, (ok, maybe two words); love and kindness.  Think about it, kindness becomes part of your personality, you living your belief, and all of that brings a change of heart to someone else who you are talking too, or participating  with on an event, or really anything which adds to another life.  It's simple really, just be yourself, negate all of that negative talk, and offer help to someone who needs it.
I was asked to come up on stage, as were all of the other people (patients).  I was also asked to say a few words.  Oh, I had it in my mind to have some humor in what I said, but it didn't come out that way,  It came out at how gracious I was to UCLA, to my Dr. that was there, to the Head of  all Neurosurgery at UCLA, Dr. Liau, all of those genius doctors running for OUR  benefit, and of course theirs, for research.  Besides being honored, it was very humbling.  We all survived brain tumors, some life threatening, some that provided some rehabbing, some where all skills were recovered.  Didn't matter, to us, they're all the same; same hospital experience, same beds, same feelings of frustrations, anguish, questions about one's own future, and then looking for support.  Every one of us had that, at some point.  We all know, pretty much so, how everyone else stood their ground, and then said, "This is me", no more, no less.  I am this person, and I am proud.
I was honored to be asked to get on that stage, give a speech, and be given a plaque, a plaque that said HERO, with my name at the end, Scott Yonkouski.  I don't know, I kinda like that.  Be kind to others, show some compassion to them, and guess what, you are your own HERO.  You can say that.